ARLINGTON, V.A., April 24, 2019 - Meals on Wheels America announced today that Innovation Health, a multi-faceted health benefits and insurance company, made a $95,000 contribution. This donation will support efforts to more fully integrate Meals on Wheels into the healthcare system, as well as expand the nutrition and wellness services they provide for at-risk homebound seniors.
"Innovation Health truly walks the talk. This extremely generous contribution underscores a growing recognition of the pivotal role that addressing social determinants of health plays in maintaining an individual's health and well-being," said Ellie Hollander, President and Chief Executive Officer, Meals on Wheels America. "We very much appreciate Innovation Health's validation of how public-private partnerships like Meals on Wheels can serve a rapidly growing high-need, high-risk population and help bend the healthcare cost curve to the benefit of individuals and communities in Virginia and across the country."
Innovation Health, which was launched in 2013, is the result of a partnership between Inova and Aetna, a CVS Health Company. Through this joint venture, both parties work together to deliver effective, local care coordination for members throughout northern Virginia. And, they strive to facilitate connections within the community to improve member experiences and health outcomes.
"We strongly believe that Meals on Wheels is a critical part of the healthcare continuum, serving as both a preventative and transitional care solution among a particularly vulnerable population. Nutritious home-delivered meals, combined with a friendly visit and safety check, can mean the difference between living a healthy and independent life at home or ending up in the hospital," said Dr. Sunil Budhrani, Chief Executive Officer and Chief Medical Officer, Innovation Health. "Our contribution reinforces our commitment to further enable these important community-based organizations to deliver innovative and personalized care that does not stop at the walls of a doctor's office."
For more information on Meals on Wheels America's healthcare initiatives, visit www.mealsonwheelsamerica.org/health.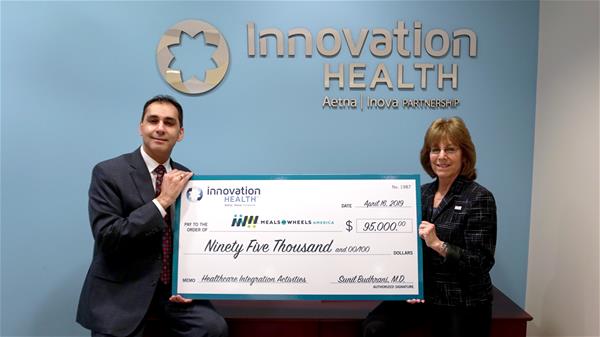 About Innovation Health:
Innovation Health provides health benefit plans to more than 130,000 members. The result of a unique partnership between Aetna, a CVS Health business and Inova Health System, Innovation Health was formed in 2013 as a new way to deliver and finance more affordable, quality health care for employers and individuals in Northern Virginia, Maryland and D.C. Through its integrated care model, Innovation Health combines a premier health plan, health system, and physicians for improved health outcomes and cost savings. For more information on Innovation Health visit InnovationHealth.com.
About Meals on Wheels America:
Meals on Wheels America is the leadership organization supporting the more than 5,000 community-based programs across the country that are dedicated to addressing senior isolation and hunger. This network serves virtually every community in America and, along with more than two million staff and volunteers, delivers the nutritious meals, friendly visits and safety checks that enable America's seniors to live nourished lives with independence and dignity. By providing funding, leadership, education, research and advocacy support, Meals on Wheels America empowers its local member programs to strengthen their communities, one senior at a time. For more information, or to find a Meals on Wheels provider near you, visit www.mealsonwheelsamerica.org.
###
Press Contact:
Jenny Young, Meals on Wheels America
571-339-1603 | jenny@mealsonwheelsamerica.org
Now that's innovation
Innovation Health is transforming the health care journey. Through innovative programs, coordinated care, and remarkable access, our health plans are personalized to fit our members' needs. Discover how we are helping members achieve their health ambitions right in their community.